ARC Marion's mission is to create opportunities for persons with intellectual and developmental disabilities to live, work, and play to the fullest of their capabilities in Marion County. We have been helping people develop their abilities since 1959!
Happy New Year from everyone at ARC Marion!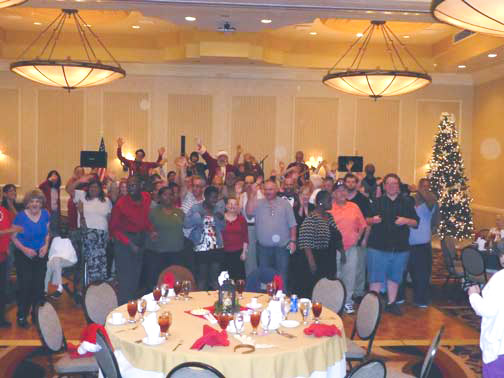 December is always a busy time of year here at ARC. There are parties for our clients to attend and visits from some of the local "Santas." Here are two pictures from our yearly Christmas party sponsored by Fran and Dot Moore. What originally started as a wedding anniversary party the Moores put on, and invited ARC clients to, has evolved into a Holiday Party sustained for years to come thanks to a trust. The party is a special and festive event each and every year as you can see from these pictures.
We thank the employees of Lockheed-Martin and Signature Brands for "adopting" our Group Home Clients. Your gifts provide them with a sense of belonging that cannot be described in words. Also, thanks to the Marion County Sheriff's Office, along with Al and Judy Dunlap for their kindness in helping with gifts to our Supported Living clients. Thanks to you, we've had a most joyous holiday season. Also, many thanks to Ocala Regional Medical Center for bringing gifts to the children in our EIP Program. They certainly brought joy to the season!
Mark your calendar, save the date!
This Thursday, January 21st, 5 p.m. – 7 p.m. at Ocala City Hall!
This is a free event! Come support our clients and enjoy the art, wine, appetizers, and music.
We have a number of fun and exciting events on the 2016 calendar! Visit our website and get the latest information about the 10th Annual King of the Wing (February 23rd), a spring charity golf tournament and don't forget about Bike Fest!
Our membership drive for 2015/2016 is off to a great start! If you are not a member yet, visit us on line at www.mcarc.com to sign up. Your money stays right here and helps ARC Marion clients!