ARC Marion's mission is to create opportunities for persons with intellectual and developmental disabilities to live, work, and play to the fullest of their capabilities in Marion County. We have been helping people develop their abilities since 1959!
This is why we do what we do!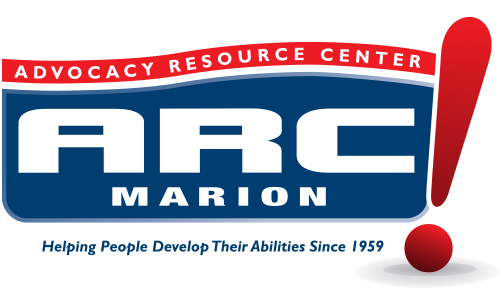 Whether one year to three years old, or 18 years to 73 years old, ARC Marion has been providing opportunities for our clients for over 56 years. In the Early Intervention Program, we develop the skills of our younger clients to prepare them for school. After they finish with school, ARC picks up the ball again with our Adult Day Training Program and continues to help our clients develop life skills and work skills with the goal of leading them to independent living and/or meaningful employment in the workforce. We do so many things in between including providing residential living support, transportation, recreation, meals, and a loving, social environment.
We love what we do and appreciate all you do to support us. In this issue, we are pleased to offer you the opportunity to help us continue our passion for our wonderful clients. Please take a moment and consider becoming a member of ARC Marion or supporting one of our events. You can be sure the money you commit will be well spent and stay in Marion County to benefit the clients at ARC Marion.
Become a member. Attend an event. Get involved! Everyone at ARC Marion sincerely thanks you for your support.
A message from Troy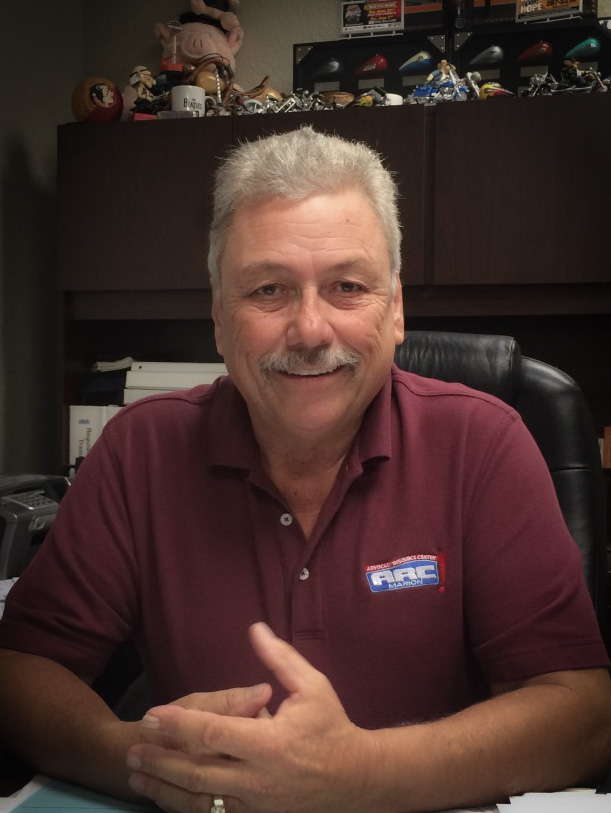 Thank you for reading our latest newsletter. It means so much to me, the employees at ARC Marion, and our clients that you have taken an interest in ARC. It is always a challenge to meet the ever-increasing demands placed upon us. We continue to struggle with stagnant reimbursement rates, increased paperwork, training, and other requirements from our government. It is now more important than ever for those who support our mission to make their voices heard in Tallahassee.
This year the legislative session starts early, and they are already discussing appropriation of state funds. So, what can you do? Contact your local legislators and let them know you are concerned about the support people with disabilities receive.
Please do two more things for me: in this issue you will find a membership form (you can also donate online). Take a moment to fill it out and enclose a small check and return it in the self-addressed envelope. Secondly, do what you can to support as many of our events as possible and continue to raise awareness of our mission.
The parents who founded our great organization banded together because they understood there is strength in numbers; it worked then and it will work now. When I travel to the Capitol and meet with the committee chairs I can say, "Not only do I represent several hundred people with disabilities, but also several hundred of your concerned constituents who do not have a disability but care about those who do." They will listen! Please help us help Florida's most vulnerable citizens.
Thank you so much for your support.
Troy Strawder, CEO
Employee Spotlight
We are proud to introduce our newest ARC team member, Cheri Craig. Her career background in sales and marketing, along with her passion for event planning, fundraising, and volunteering, will surely make her an asset to ARC as our new Director of Development and Communication. Please look for her at all our events and help us in welcoming her aboard!
Thank You Donors!
We receive support from many individuals, businesses, and groups. We could not provide the support and services we do without their support! We would like to acknowledge the key donors for 2014/2015: ABC Auto Body, Mr. & Mrs. Amin & Associates, Allstate Mortgage, Mr. Robert Bauer, Inc., Conimar Corp., Mr. Mark Jones, Enviro-Shred, Harley Davidson of Ocala, Heritage Bank, Karob Instruments, Lester Painting, M.C.R.B.I./Florida Feast, Jane Shannon-EIP, Mrs. Roberta Moore, Pilot Fuel Stops, Publix Supermarket Charities, Regions Bank, Mr. Art Shultz, Stone Creek Ladies Sewing Club, SunTrust Bank, USA Scientific, Inc., Wind FM, Chris Welch/Charlie Tucker, PA, AJAX Construction, Marshall & Sherri Hunter, MVP/Patel, Dr. Alan Richman, Mr. & Mrs. George Bolton, Custom Window Systems, Day & Day CPA, Mr. Tom Falanga, Guardian Trust, Jeffrey Meldon & Assoc., Knights of Columbus, Lockheed Martin, Marion County School Board-EIP, Mojo's Grill, Mid-State Electric, Pratt Industries, Ride-Now Power Sports, Riggins Law Firm, Signature Brands, Townley Manufacturing, TECO Peoples Gas, Wells Fargo Foundation, WINCO Industries, WOCA Radio, AM/PM Plumbing George Shotwell, Mrs. Carol Bailey, JJ Fields, Climate Control, Dorothy Hukill (Senator), Document Technologies, Florida Express-John Paglia, INTEC 360, Needham Plumbing, Lassiter-Ware Insurance, MCBIA/King of the Wing, Marion Roofing-EIP, Mr. & Mrs. Francis Moore, NPIS, Prestige Auto Sales, Purvis Gray Insurance, United Refrigeration, Silver Springs Bottled Water, Mr. Gary Stenzel, Ocala Specialty Hardware, Ordway Insurance Agency, United Way of Marion County, NPIS/FIT, Baseline Auto Sales, DS Construction, Extreme Clean, Feasterco, Geo-Tech, ACA Construction, Renasant Bank, JWJ Inc., Sellstate Next Generation Realty, Jerry's Pawn & Gun, Extreme Brake Systems, IDK, Marion Regional Manufacturer's Association, and Ocala Regional Medical Center
Success Stories
We love to share our client success stories. It is important for us to acknowledge their success and to pass this on to you so you know your donations are making a difference. We are so appreciative to all our supporters and hope these stories inspire you even more. They certainly inspire us!
LOOK AT ME NOW!
When Luke started our Early Intervention Program 13 months ago, he was only crawling. As a result of his excellent progress through physical therapy, Luke is able to walk with a walker and is picking up speed very quickly. He now spends time walking, climbing, and exploring but mostly enjoys working with his therapist pushing weighted boxes.
Luke has progressed greatly in other areas as well. When he started, Luke was learning to feed himself with his finger but grew frustrated quickly and tried to climb out of his seat and throw his food on the floor. Now his attention span has improved significantly as he sits at the table and is mastering eating with his spoon. Additionally, Luke has excelled in his speech and occupational therapy. He loves music and follows all the songs in circle time and is learning to communicate with picture cards.
We are proud of your progress Luke, keep up the great work!
REAL LIFE SKILLS!
Sean's goal is to develop his math skills. Working with an academic instructor at the Adult Day Training Program at ARC Marion, Sean is now able to add, subtract, and solve word problems involving money. More significantly, his confidence has soared along with his abilities to work with money. Keep up the great work Sean!
In addition to helping people reach their goals, ARC Marion is helping our clients become more independent by helping them develop real life skills.
SPOTLIGHT: Dedicated Employee
"Let's get fired up," Kim says to motivate her team at the start of each workday. Kim has worked at Winco's assembly department for nearly a year and excelled in initiative and leadership. She began her career assembling hardware kits and now she is able to work on 10 different kits. She learns quickly, anticipates needs, is detail orientated and is the consummate team player. "They're easy to work with, and I like working on projects and seeing them through to completion," explains Kim.
Kim was connected to Winco's HR Department through ARC Marion based on her experience in manufacturing. In addition, Beth Lewis, Community Services team member at ARC Marion, checks in on her often.
In our Adult Day Training Program, ARC Marion is working with and helping people like Kim reach their goals.
Thank you so much for your support.
Troy Strawder, CEO