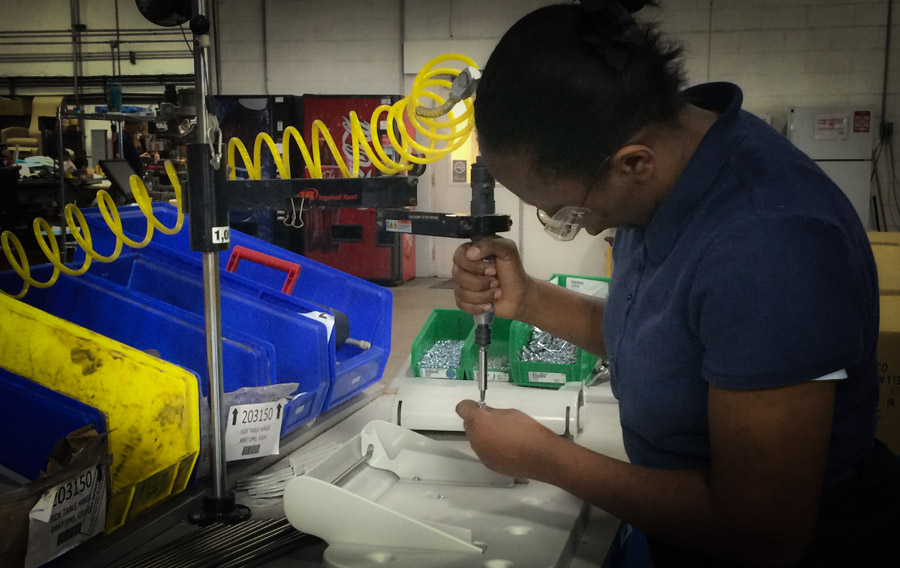 "Let's get fired up," Kim McFarlane says to motivate her team of ten at the start of each workday. Kim has worked full-time at Winco's assembly department for over six months and has demonstrated initiative and leadership in her role. Starting with prepping hardware kits, Kim now works on ten variations of component parts. She learns quickly and constantly looks ahead to anticipate needs that will help her and her department be efficient. Although Kim's focused on details and results, she is most proud to be part of a team at Winco. You'll often see her high-fiving her teammates to keep the energy up.
"They're really easy to work with. I like working on projects and seeing them through to completion," says Kim of her team and her motivation to work. Kim was connected to Winco's HR department through ARC Marion based on her history of working in manufacturing. "I like a fast-paced environment," says Kim. Not only did ARC Marion open the door for Kim's employment, they check in on her often. "She's a good lady. She checks on me and makes sure I'm alright," Kim says of Beth Lewis, Community Services team member at ARC Marion. The future looks bright for this self-starter.
ARC Marion is an agency benefited by United Way of Marion County. ARC Marion receives funding to help place low income, developmentally disabled adults in community-based employment. They also offer skills training to increase their clients' employability. For more information about United Way of Marion County, visit uwmc.org.